Google Business Profiles are vital for businesses to enhance their online visibility and attract customers. However, certain actions can lead to the suspension of a Google Business Profile. As a Google product expert, I have witnessed numerous instances where businesses were flagged due to specific activities. In this blog, we will explore the common mistakes businesses should avoid when managing their Google Business Profiles, prevent being flagged by Google's algorithms and maintain a strong online presence.
Create a separate Google Account to Manage your Business Profile
Do not manage your Business Profile with a Gmail account that regularly makes edits on maps, leaves reviews, or is an active email account. Avoid sharing access to your business profile with employees that may engage in this behavior while logged in. It is important that your Business Profile be managed under a Gmail account that does nothing else but manage your Google profile.
Spamming Keywords in Business Description
While it's essential to optimize your business description for search visibility, stuffing it with irrelevant keywords is a red flag for Google. Keyword stuffing not only makes your profile appear unnatural but also diminishes the user experience. Craft a concise and informative business description that accurately represents your offerings and appeals to potential customers. Use keywords naturally and sparingly, focusing on providing valuable information rather than attempting to manipulate search rankings.
Avoid having Inaccurate Business Information
Providing inaccurate or misleading information about your business can have severe consequences. Ensure that your business name, address, phone number, and website are accurate and consistent across all platforms, including your Google Business Profile. Google's algorithms prioritize accurate and up-to-date information to provide users with the most relevant results. Incorrect information can not only lead to account suspension but also negatively impact your reputation and customer trust.
Fake or Manipulated Reviews
Google values authentic and trustworthy reviews from customers. Engaging in fake or manipulated reviews, such as creating multiple accounts to leave positive reviews or posting negative reviews about competitors, is a violation of Google's guidelines. Instead, focus on delivering exceptional customer experiences and encourage satisfied customers to leave genuine reviews. Respond to reviews, both positive and negative, in a professional and timely manner to demonstrate your commitment to customer satisfaction.
Reputation Arm has a comprehensive review management tool that can help your business generate new reviews, respond to reviews and provide sentiment analysis on all reviews received. Book a demo to learn more.
Violating Content Guidelines
Google has strict content guidelines that businesses must adhere to when managing their Google Business Profiles. Publishing content that is offensive, illegal, or violates copyright laws can result in account suspension. Avoid posting inappropriate or irrelevant content, and ensure that any images or videos associated with your profile are appropriate and reflect your brand in a positive light. Regularly review and update your content to maintain a professional and reputable online presence.
Suspended for Red Flags?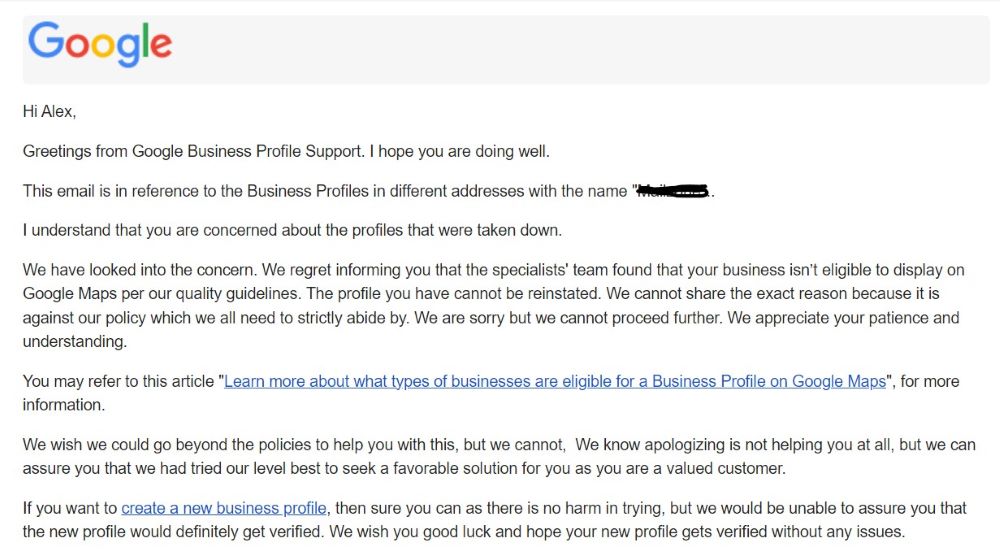 If your Google Business Profile is suspended and Google has informed you that your account has red flags and is not eligible to be reinstated, try these steps.
Create a new Google account and add it as a user to your business profile.
Transfer ownership to the new Google account. It takes 7 days to transfer ownership.
Remove the original user that may have been flagged.
Email Google on the original thread you received after filing for reinstatement. Let them know that you have remove the flagged user from the account.
Keep in mind that it may not always be a user that is flagged and these steps may not always have a positive outcome.
For help with a Google Business Profile suspension, contact us.